Location: Bruck next to Zell am See right at the start of the Ironman 70.3  in Zell am See, 20m next to the Ironman bike path.

All trainings in Bruck are led by Petr Vabroušek, each training is not only about the load but also about the knowledge: how to train, how to eat, how to recover.

Unique agglomeration, accommodation in a tourist type guest house AlpenBlick, tasteful enough accommodation. 

The program of the spring camp in Bruck is from 27.5. to Monday 31.5. (departure afternoon after mini-triathlon).

We will draw free entry slots: 1 x Winterman IM and 1 x Doksy Race Ironman 70.3.

The price of the camp in Bruck is: 12 900, -CZK (500EUR) for guests in a rooms for two. Price for accommodated in the hotel Sportcamp Woferlgut is 16 690-, -CZK (670EUR) in rooms for two. 


 

Price includes:

accommodation in the tourist guest house AlpenBlick in Bruck. 

half board for all: in the hotel Sportcamp Woferlgut(1km away form penzion AlpenBlick), breakfast with a rich choice of salads, dark pastries, fruits, fresh vegetables, coffee from the coffee machine, afternoon snack and 4-course dinner, including possibilities of gluten-free.

Meals start on Wednesday with dinner.

parking at the hotel.

UNISPORT NUTREND energy drink available at all times.

Possibility of free trial of  BLUESEVENTY.CZ wetsuits, trisuits and goggles, SLS3.CZ compresion socks and trisuits. EQUATOR.CZ carbon wheels Equator 50mm and 80mm with 25mm tubulars TUFO.CZ.
Nutrend.cz gift package for every camp participant!

free use of the hotel  Sportcamp Woferlgut facilities, including 50m indoor sports pool, outdoor pool, large jacuzzi, exellently equipped 250m2 fitness studio, sauna world.
---
---
Date 27.5. - 31.5. 2020
| | |
| --- | --- |
|   | Wednesday |
|   | arrival at 13:00, accommodation in apartments, short opening. |
| afternoon | cycling - a route to get to know the surroundings within 50km, a short run before dinner on the meadows near Bruck - Kaprun |
|   |  jacuzzi + sauna + swiming  |
|   | Thursday |
| morning | swimming open water (if possible lake in Zell am See in neopren) alternative pool at Sportcamp |
|   | athlete and athletic alphabet, patterns of interval training in practice |
| afternoon | cycling circuit IM Zell am See (coffee spot -) in Crazy Daisy) |
|   | jacuzzi + sauna + swiming  |
|   | Friday |
| morning | Morning run to the lake in Zell |
|   | cycling optional - route light plane Kriml waterfalls, route difficult (very difficult) route to Grosglockner up to 2,500 meters above sea level. |
|   | jacuzzi + sauna + swiming  |
|   | Saturday |
| morning | Morning lighter run to the lake |
| afternoon | trip - by cable car to Kitzsteinhorn and coffee at 3,300 meters above sea level (cable car is included in the price) |
|   | jacuzzi + sauna + swiming  |
|   | Sunday |
| morning | trial short triathlon |
|   |  snack + coffe Sportcamp at hotel after race |
| afternoon | Departure home |
---
FAQ
"Do I have a physical at your camp?"
Answer: TRICAMP can handle every healthy and determined individual. Performance doesn't matter. The load can be individually adjusted as required. In the locality Kaprun -Zell - Bruck are an incredible amount of sports activities, if you do not feel like training, you can try for example paddleboarding right at our guesthouse in the lake.
"Isn't this just for men?"
Answer: TRICAMP is for everyone, everybody chooses their pace in the training and on the bike tracks the accompanying cyclist - a trainer in the back according to the pace of the last. There are groups on the run again and other groups. Everyone chooses their pace.

"Can I take my family to Bruck?"
answer: Definitely yes, write us the number of people, children, partner, partner, everything except accommodation and half board and we will send you the price.
"What else is in Bruck?"
In the locality Kaprun - Zell - Bruck is an incredible amount of activities, besides the Ironman race, it is possible to go hiking on the ridges, you can train here for trail races, it is possible to fantastically connect the day for example part of the cableway-part on foot. The pension has maps that graphically describe where, after what color by bike, on foot or on the trail. Maps of the surroundings are precise with a description of the difficulty and with the orientation time of the route. In case of bad weather, the Sporcamp has an outdoor heated pool.

"What will bring me participation in the TRICAMP?"
Answer: Great time spent among similarly "handicapped". Plenty of triathlon know-how from swimming, cycling and running to strengthening the center of the body.
They wrote about us
"I've been to the Tricamp twice so far (and if I can, I will go for the third time). I especially liked the fact that everyone found their own at the campsite regardless of performance. He could load 90. Who wouldn't even feel at 45 could adjust the volume of individual trainings according to his possibilities, as well as advice from coaches. Firstly, I chose the most needed for my current training / situation and the second year for my acute performance. "
The IM route in Zell am see, where most cycling practices will be held.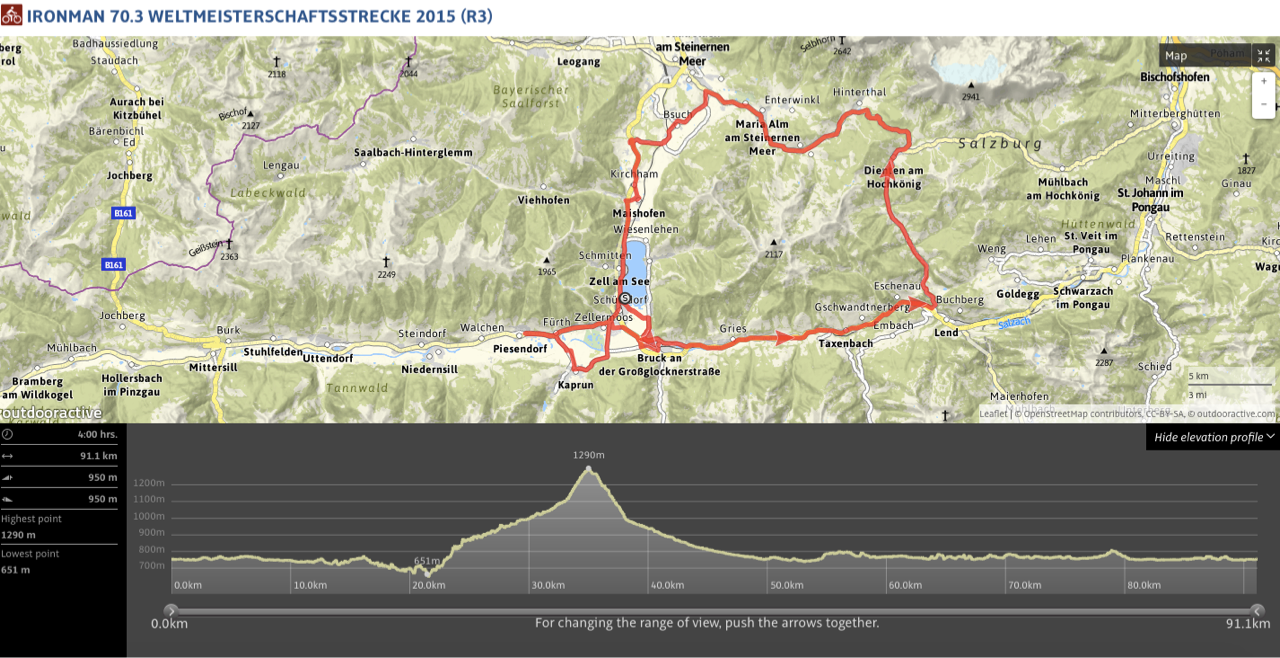 ---